EXPLORING HISTORY
Explorar La Historia
By Mary Hunt Webb
Posted Friday, July 31, 2015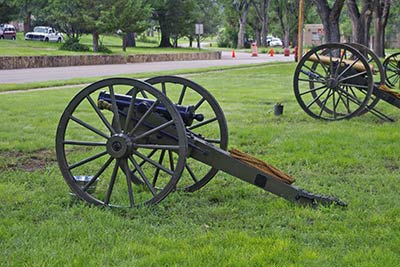 Fort Stanton was established in 1855, in Lincoln County in south central New Mexico. [Photographer: Morris Webb, Jr.*]
Every summer, my husband and I try to make a trip to explore some historical part of our region. This year, we visited Fort Stanton, a former army post, in south central New Mexico, near the towns of Capitan and Lincoln. It is not far from where the original Smokey Bear was found as an injured bear cub with severe burns after a forest fire.
Like many military posts built in New Mexico in the 1800s, the walls of Fort Stanton consisted of adobe, or dried mud. While the adobe walls of most forts were exposed to the elements so that most of the mud walls have washed away, Fort Stanton still stands because its adobe walls were covered with weather-resistent materials.
The fort's original purpose was to protect settlements along the flowing Rio Bonito from Mescalero Apache Indians. Initially, the fort contained two blockhouses encompassed by an adobe wall.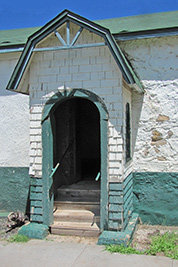 This is an entrance to one of the buildings at Fort Stanton, a former military post located near the towns of Capitan and Lincoln, New Mexico. [Photographer: Mary Hunt Webb.*]
At one time, William Bonney, the young outlaw known as "Billy the Kid", was incarcerated in the Fort Stanton guardhouse to await hanging. That hanging never took place. Instead, he died at age 21 from a gunshot administered by Sheriff Pat Garrett.
Originally, Fort Stanton was so remote that Lydia Spencer Lane, the wife of an army officer, wrote of the months she spent there, "Fort Stanton was a beautiful post, with the best quarters in the army at that time, but it was like being buried alive to stay there. Nothing ever passed that way, and it was seldom a stranger came among us. There was but one mail a month …" (p. 64, I Married a Soldier: Old Days in the Old Army, Lydia Spencer Lane, 1893).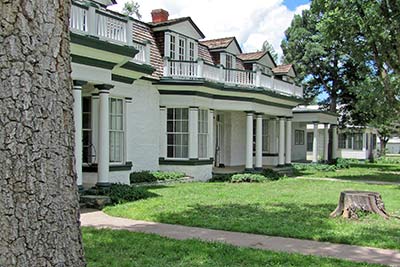 Although many buildings at Fort Stanton, like these officers' quarters, are uninhabitable at present, restoration continues. [Photographer: Mary Hunt Webb.*]
Fort Stanton was decommissioned as a military post in August 1896, but many of its buildings have been in continuous use throughout the years for one purpose or another. First, it was converted into a Merchant Marine Hospital for the treatment of tuberculosis. Next, it became a Public Health Service Hospital, a camp for German internees during World War II, a training school for the mentally handicapped, and, most recently, a drug rehabilitation center for state prisoners.
Surrounded by the Lincoln National Forest, Fort Stanton's location is still remote, but a modern road, New Mexico Highway 220, makes it more accessible than in the days when Mrs. Lane anxiously awaited monthly mail delivery. However, the twists and turns of that road still mean that one must intend Fort Stanton as the ultimate destination because the fort is not on the road to anywhere else.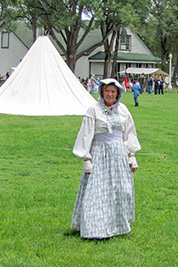 For certain events throughout the year, volunteers dress in period costumes to provide Fort Stanton with a historical atmosphere. [Photographer: Mary Hunt Webb.*]
As my husband and I strolled the grounds of Fort Stanton, I remembered that there have always been times when people depended on the means available to them at the time to protect themselves. However, Psalm 20:7 declares, "Some trust in chariots, and some in horses; But we will remember the name of the Lord our God." (New King James Version)
As long as we put our trust in God, He will always be with us.
BIBLE VERSE FOR THIS POSTING
Psalm 20:7 - Some trust in chariots, and some in horses; But we will remember the name of the Lord our God. (New King James Version)

Salmos 20:7 - Estos confían en carros, y aquéllos en caballos; Mas nosotros del nombre de Jehová nuestro Dios tendremos memoria. (Reina-Valera 1960)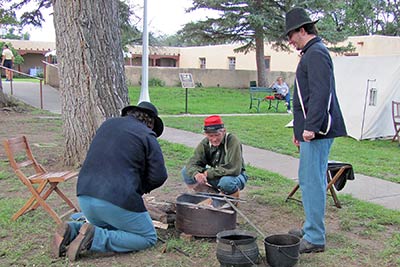 Dressed in period costumes as soldiers, these gentlemen remind us of how life may have appeared when Fort Stanton was an active military post. [Photographer: Mary Hunt Webb.*]
* Please do not use our original photos without our permission. These include photos by Mary Hunt Webb, Morris Webb, Jr., Morris Webb, Sr., and C.B. Hunt. Thank you.
Return to the top of the page